How to Replace Your Elanra Medical Device Needles
How to Replace Needles
There are 3 LED's that show the function of the machine. Green shows that the Elanra Medical Device is fully operational. When the Orange light shows, the needles require changing and you have approximately 100 hours of use before the Red LED illuminates. When this happens the unit has shut down, and will not operate until the specially made needles have been replaced. This operation will not harm your Elanra and is designed to ensure that you will always receive the maximum benefit from its use.
You can purchase our maintenance pack for all the tools you need to maintain your Elanra.
https://bionicair.com/product/elanra-maintenance-kit/
You can buy more needles by visiting the Bionic Air Shop online or calling our office Monday to Friday 9am – 5pm Queensland time, Australia.
When purchasing needles you only pay for 4 sets and you will receive 1 set for FREE. That should last you about 15-18 months. The MkII and MkIII required 4 needles each, those 4 needles together are called a 'set of needles'. A minimum of 5 sets are purchased at a time, we call that a 'pack of needles'. We recommend you keep your needles stored with your jewellery or somewhere special where they cannot be misplaced or handled by children.
Green Light
Fully Operational for approximately 1200 hours (4-5 Months if using at night only)
Orange Light
Needles require changing and your Elanra will continue operating for another 100 hours approximately (1-2 weeks)
Red Light
The Elanra will cease operating when the RED LIGHT indicator shines. This means that your needles are no longer sharp enough to provide you with adequate therapeutic benefits. Follow your instruction manual to replace your needles and then reset your device or view our video.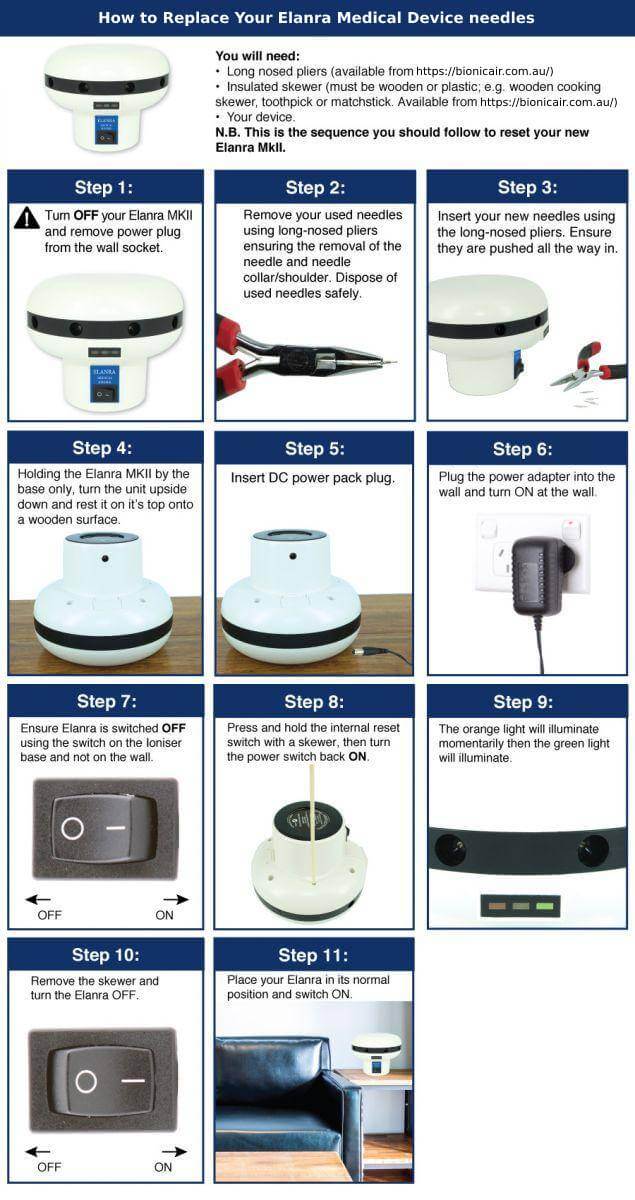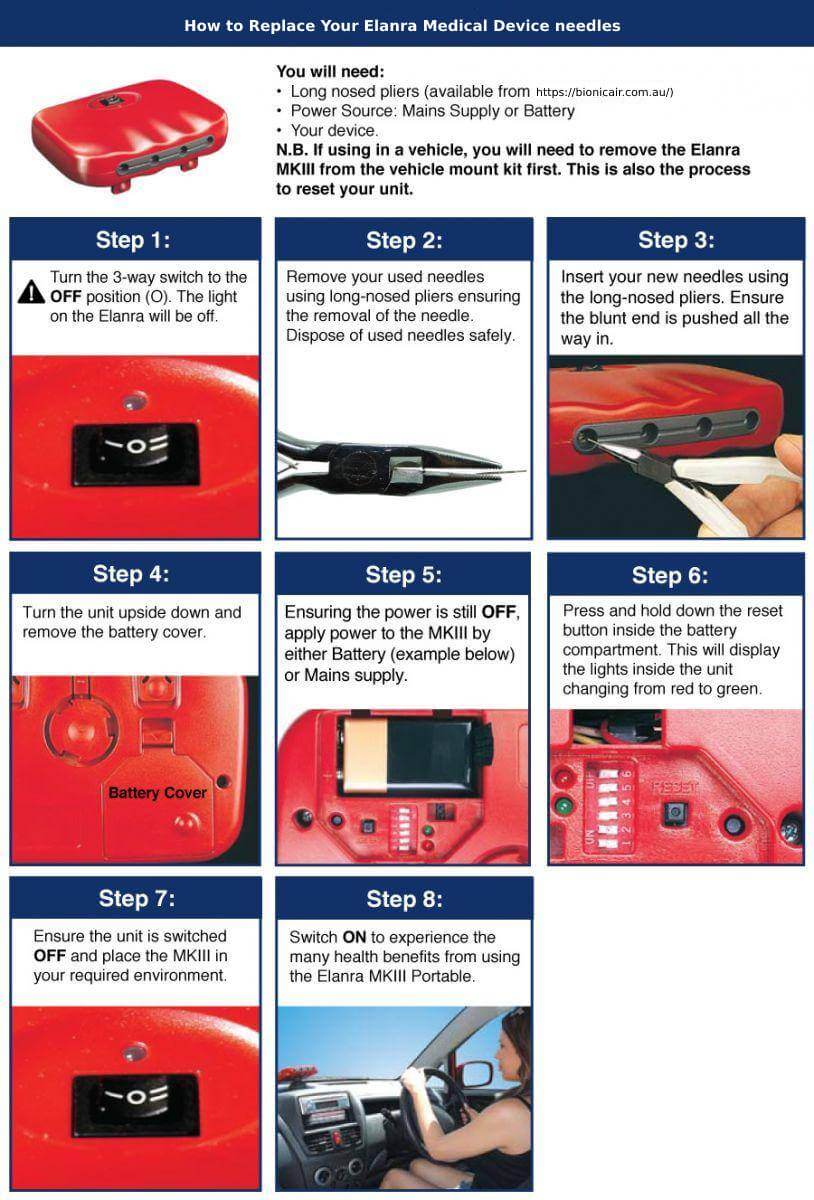 These specially designed and manufactured needles for only our medical devices are user friendly and are easily replaceable. They have a life of approximately 1200 hours but your environment could alter their life from time to time. New needles should be ordered when the orange light appears if you don't keep them in your stock. If you simply re-set the Elanra without replacing the needles, the medical effect will be substantially reduced, and we cannot assist you to reach your health goals. Needles cannot be cleaned or re-sharpened, and must be safely discarded and then replaced.
If you need further assistance with changing your needles, call our friendly trained staff today on the +61 7 5593 1122 or email your queries to customerservice@bionicair.com.au
More Useful Videos
If this doesn't answer all of your questions, feel free to drop us a line anytime.